Episode 5 - The Armageddon Machine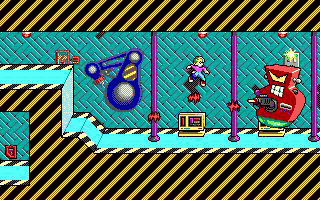 Basic Information
Released :
1991
Published By :
Apogee
Developed By :
ID Software
Platform :
DOS
Genre :
Action
Perspective :
Side-Scrolling
Introduction
Commander Keen fifth episode, The Armageddon Machine, is the second episode of the "Goodbye, Galaxy!" series. This episode is not shareware, like the first one, in order to play this episode, you need to pay for it.
The Story
The story in this episode continues from the "Secret of the Oracle" episode. In last episode, Keen rescued all the members of the council. And now in episode 5, Keen finds out about the Shikadi's enourmous ship, which has the largest weapon ever built. Now it seems like the Shikadi have built a huge machine to destroy the world. And now Commander Keen flies to the Shikadi's ship in order to save the world.
Keen's Mission
Your mission in this episode is to find the various power stations and break them with your pogo stick, and then to destroy the main power cell and make the armageddon machine harmless.
Resources and Links