Episode 6 - Aliens Ate my Baby Sitter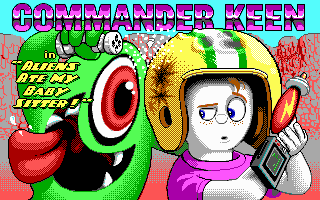 Basic Information
Released :
1991
Published By :
FormGen
Developed By :
ID Software
Platform :
DOS
Genre :
Action
Perspective :
Side-Scrolling

Introduction
The 6th episode of Commander Keen is called Aliens Ate My Baby Sitter and is the final episode of all the games. It doesn't belong to a trilogy of games like the other episodes. The best part in this game is that it is available for download. You can download the demo version of it from our download section. This game also has better graphics and gameplay than the other episodes, which makes it one of the best games ever.
The Story
The story of episode 6 doesn't continue from episode 5, as in the other episodes. This episode has it's own story. It starts by a kidnapping. Billy's babysitter Molly has been kidnapped by the people from Fribbulus Xax. And now keen flies with his Bean-with-Bacon Megarocket to space to find his babysitter.
Keen's Mission
Now your mission is to rescue your babysitter from getting eated. The Bloogs of Fribbulus Xax are going to make a meal out of Molly. You've got to rescue her, because your parents will never believe you when you tell them... "Aliens Ate my Baby Sitter!"
Resources and Links