Episode 3 - Keen Must Die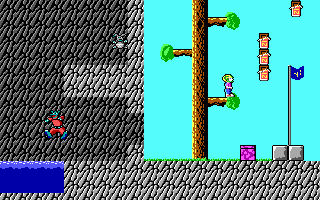 Basic Information
Released :
1990
Published By :
Apogee
Developed By :
ID Software
Platform :
DOS
Genre :
Action
Perspective :
Side-Scrolling
Introduction
The third episode of Invasions of the Vorticons trilogy is Keen Must Die. This episode is the last one in the trilogy, and the story still keeps going on. This episode is also released as shareware, so it is not available for download from our site. In order to play the game, you need to buy the whole trilogy.
The Story
In the last episode commander keen disabled the Vorticon Mothership, and now in this final episode in the trilogy commander keen is making his way to the planet Vorticon VI. Then he lands on the island of Vortville, from where he tries to travel to the city of New Vorticon, which is very well guarded by a huge vorticon army. Then he must pass the impossible maze of the Caves of Oblivion. When he passes it, he will finally reach the Castle of the Grand Intellect. Just who is The Grand Intellect and can you stop him before he destroys earth?
Keen's Mission
Now your mission is to make your way to the Castle of the Grand Intellect on the planet Vortiocon VI, and discover the secret of the Grand Intellect. The Vorticon Elder on the Vorticon's Mothership told you two things. Firstly, the Vorticons are not evil - the Grand Intellect is controlling them with his "Mind-Belts". And secondly, the Grand Intellect is from Earth! Who could he be?
Resources and Links